CIES Consortium
National Projects
CAO SIP Project (2nd Phase)
CSTI Cross-ministerial Strategic Innovation Promotion Program (SIP) 2nd Phase "Physical space digital processing platform"
Research sub-theme II. "Ultra low power IoT devices / innovative sensor technologies"
R&D of ultra low power IoT devices and its technical platform with MTJ/CMOS Hybrid technologies for Society 5.0
Project Leader
Prof.
Tetsuo Endoh
Tohoku University's proposal "R&D of ultra low power IoT devices and its technical platform with MTJ/CMOS Hybrid technologies for Society 5.0" (Representative institute: Tohoku University, Project leader: Prof. Tetsuo Endoh) was accepted as a CSTI SIP 2nd Phase "Physical space digital processing platform" Research sub-theme II. "Ultra low power IoT devices / innovative sensor technologies"
In this proposal, using the MTJ/CMOS hybrid technology which has been developed by ImPACT program, the dilemma between the conventional power consumption and processing performance is solved by givining non-volatility (functions that do not forget information even if the power is turned off) in addition to the processing functions to all IoT devices.
In this way, we will establish a platform technology for IoT devices with ultra low power consumption (1/5 - 1/10 compared to conventional) required for physical space.
In addition, we have established the technology platform (an integrated system from development and manufacturing to module design) of IoT devices consisting of circuit IPs, design tools, PDK, etc., which are indispensable for IoT device development by defining the application fields:
edge surveillance
mobility
environment tolerance
connectivity
in order to implement social implementation of the developed technologies. We also promote cooperation with innovative sensor technology team, common platform technology team, social implementation technology team through development of system technology platform.
This project will contribute that Japan will lead the revolution of innovative low-power IoT devices and the realization of Society 5.0.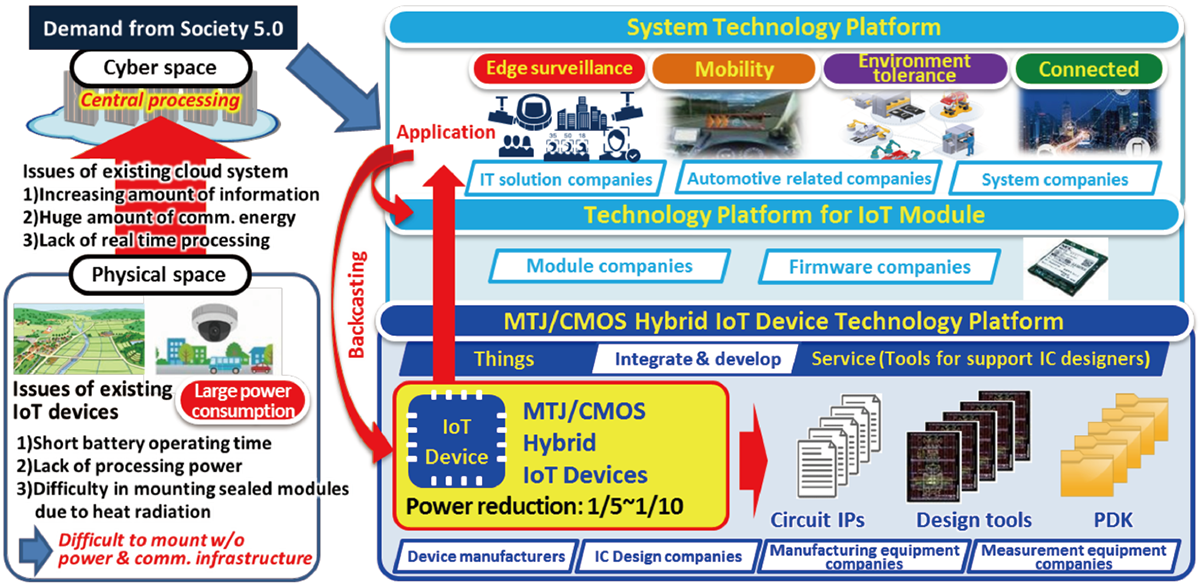 Development of IoT devices and it technical platform realizing innovative energy saving performance with MTJ / CMOS hybrid technologies, and system technologies promoting social implementation by backcasting from system development in defined applications.