CIES Consortium
National Projects
JAXA Space Exploration Innovation Hub
Standby power-free system by MTJ/CMOS Hybrid technologies and its environmental tolerance test (for space application)
Prof.
Tetsuo Endoh
Associate Prof. (JAXA)
Daisuke Kobayashi
A research proposal "Standby-power-free system by MTJ/CMOS hybrid technology and its environmental resistance test (for space applications)" by CIES, Tohoku University in FY2019 was selected for the request for proposal (RFP) by the JAXA Space Exploration Innovation Hub to expand "the human sphere of life and active area by exploring the solar system frontier".
For space exploration beyond Moon and Mars, long-term missions of more than 10 years are expected in environments where solar energy is weak, so ultra-low power electronic systems that cannot be achieved with existing technologies is required. Another important issue for spacecraft electronic systems is the need for both standby power and space radiation resistance.
In this proposal, we will research a system that does not require standby power using MTJ/CMOS hybrid technology that integrates CMOS technology and MTJ, which is a spintronic device developed by us. We aim to realize innovative semiconductor devices and integrated circuits that improve efficiency and reduce power consumption by orders of magnitude. Specifically, we will conducted the research on the materials for higher performance and higher reliability, and the MTJ/CMOS hybrid devices/circuits/integration process/chip technologies.
Based on the reliability evaluation including radiation tolerance test by JAXA, we aim to create a power - f ree integrated ci rcui t that has environmental tolerance in addition to the non-volatility and high speed in MTJ/CMOS hybrid chips. This contributes to the solution of the research theme "Research on Standby Powerless Systems" specified by JAXA.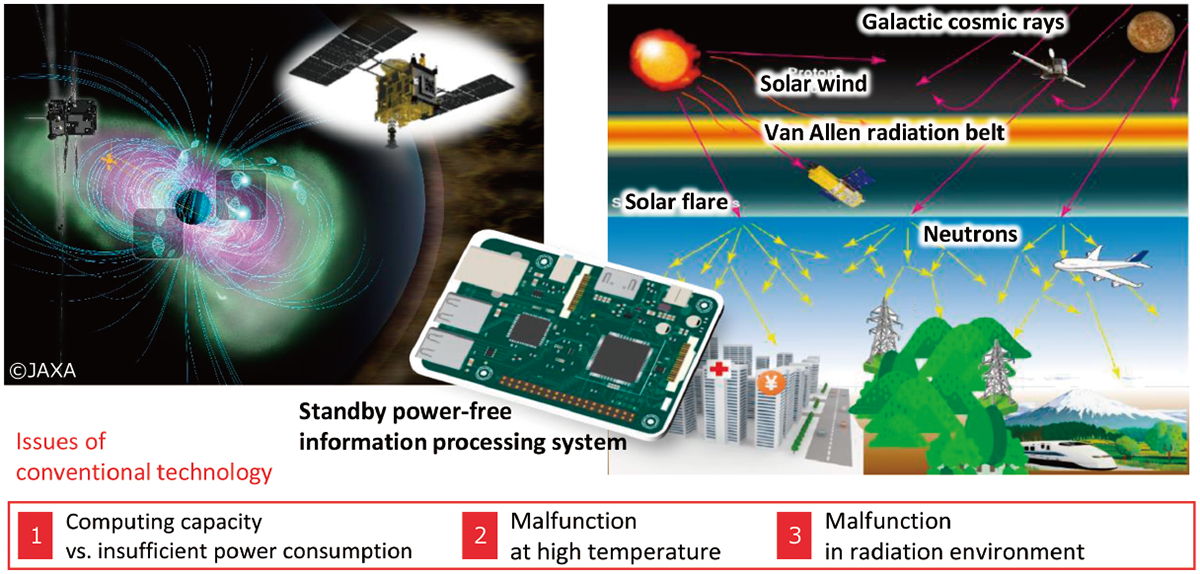 Research on standby power-free information processing system with radiation tolerance using MTJ/CMOS hybrid technology