Overview
Principles & Objectives
To create the innovative integrated electronic technologies for future energy-saving societies, it is essential to find out new principle of growth and brush up the base of industry-academic collaboration continuously, taking advantage of scientific knowledge and well-established engineering.
Considering this social demand, we have established a strong hold of international industry-academic cooperation, namely co-creation field (CIES consortium) with variety of research seeds at Tohoku university as well as abundant records of university-industry research collaboration, and promoted the R&D of innovative technologies to contribute to the future energy-saving and safe society. CIES has promoted the industry-academic cooperation with world-class domestic and international companies in various fields from seeds (material/process/ULSI etc.) to needs (software/tool/system etc.), the major national projects in advanced research areas as a platform for industrialization, and the community-based cooperation projects with regional and local companies with support of local government (Miyagi Prefecture, Sendai City etc.). The consortium aspires for practical application as well as industrialization of seeds of the innovative technologies under the support measures from national and local governments. These activities will create synergy by the cooperation of the researchers in co-creation fields and bring future hierarchical supply-chain formation of technology from seeds to needs.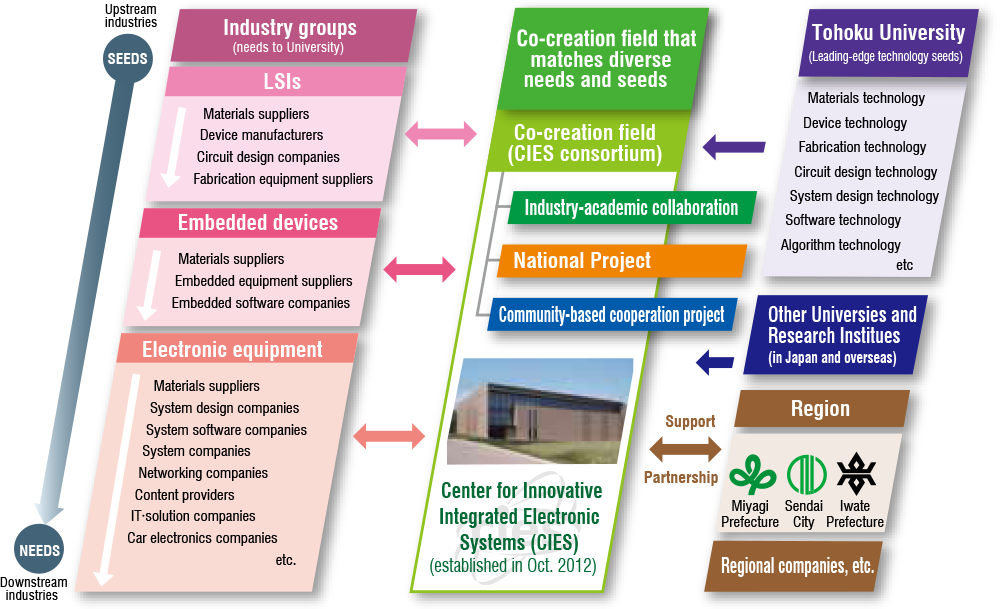 Click to enlarge
In 2016, CIES launched two national projects: Program on Open Innovation Platform with Enterprises, Research Institute and Academia (OPERA) by JST and JSPS Core-to-Core Program, and enlarges the activities into pre-competitive stage. In addition, an open program "CIES joint research" has been started to cultivate advance research activities beneficial to next-generation integrated electronics for meeting coming social demands.