CIES Consortium
National Projects
JST OPERA Project
World-leading open innovation platform of fusion technologies bridged IT and transportation system areas
Project Leader
Prof.
Tetsuo Endoh
"World-Leading Open Innovation Plat form of Fusion Technologies Bridged IT and Transportation System Areas" proposed by Tohoku University (Organizing institution: Tohoku University; Project leader: Tetsuo Endoh, Director of Center for Innovative Integrated Electronic Systems) was promoted as Program on Open Innovation Platform with Enterprises, Research Institute and Academia (OPERA) in the 2016 fiscal year by JST.
This program works with Kyoto University, Yamagata University, and tens of world-leading enterprises, and aims for creating an open innovation platform about the following non-competition R&D areas as key technologies;
Extremely low power consumption technology of edge computing device for IoT
Low loss hybrid integrated power device and low loss power electric technology for high efficiency energy conversion
Establishment of intelligence green power electronics technology for future transportation system by fusion IT and power device
We design a non-competitive area for above three R&D areas. We will contribute for the industry to create a new business by the synergy of these non-competitive R&D areas and the competitive one organized by Tohoku University.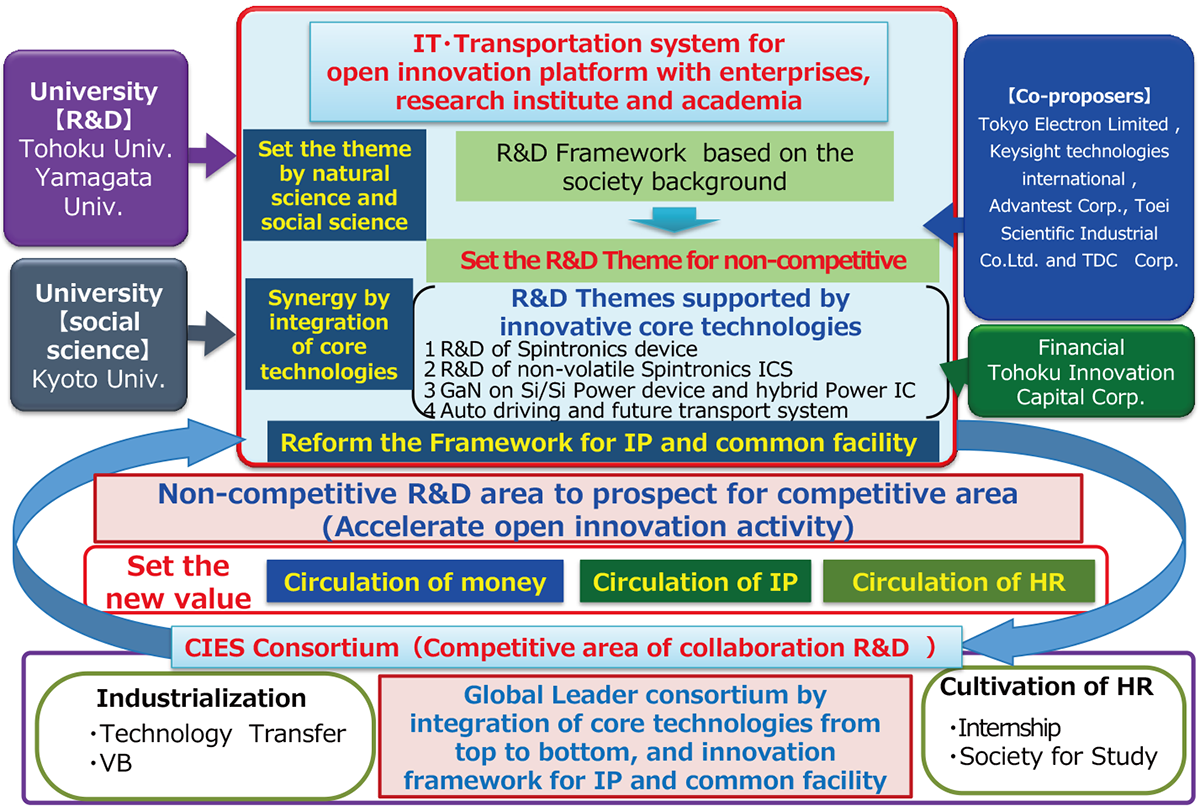 IT・Transportation system for open innovation platform with enterprises, research institute, and academia
【R&D Theme 1】
Realization of spintronics devices with higher reliability, higher density and lower power
We are developing nonvolatile memory device with 1) excellent rewrite endurance, 2) future oriented shrink technology and 3) high energy saving performance and high integration in integrated circuits.
【R&D Theme 2】
Realization of ultra lower power consumption by spintronics nonvolatile integrated circuits and its measurement technologies
We are doing research on process technology, measurement technology, and integrated circuit technology for connecting materials and device development to Spintronics nonvolatile integrated circuits as fully collaborative research.
【R&D Theme 3】
Realization of GaN/Si hybrid power integrated circuits with GaN on Si and Si power devices
We are doing research on the crystal growth for cubic GaN power device on Si(100) substrate capable of normally-off operation and on the development of power module technology to induce full advantage of the excellent high frequency characteristics for GaN/Si power devices.
【R&D Theme 4】
Realization of next generation transportation system by advanced automatic judgement system and hybrid power integrated circuits
We are doing research on technology realizing dramatically shortened learning time (1/100) by hybridization of spintronics element and CMOS circuit and on analog-based neuromorphic technology using of nonvolatile function by spintronics, and we are creating LSI's circuits and architecture realizing intelligent recognition judgement.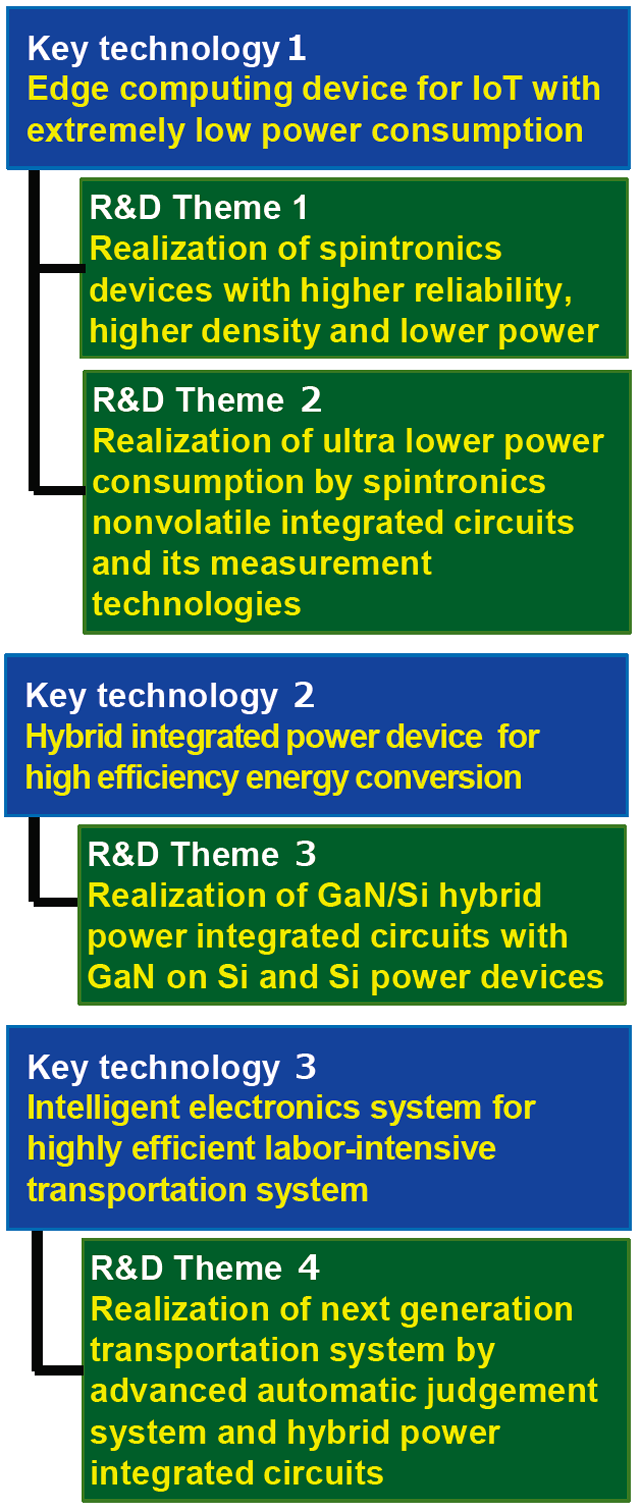 R&D Themes in National Project of IT・Transportation system for open innovation platform with enterprises, research institute, and academia